The last two weeks have been brutal for silver, which peaked at $17.15 on June 14, then proceeded to lose as much as $1.25 per ounce. Silver touched an intraday low of $15.90 on Thursday, June 28, marking a gut-wrenching 7.3% drop.
Sentiment for the metal has become downright awful, but silver has continued its trend of gaining against gold on a relative basis.
The big question is, of course, is it over yet? While impossible to say, some clues suggest it just might be. With gold prices badly oversold and the gold-to-silver ratio continuing to fall, the trend may be reversing.
Add to that the fact that silver stocks have been hovering around oversold status for the past two weeks, and we could have the ingredients for a reversal.
On Friday silver opened at $16.01 and closed at $16.09. It was a modest gain, but a gain nonetheless, thanks at least in part to a reprieve in dollar strength.
But by Monday, the DXY had rallied once again above 95, pressuring silver down to $15.82, a level not seen since early December.
Now, here's where I see the price of silver heading from here…
Here's My Newest Silver Price Prediction
Could the dollar be done climbing?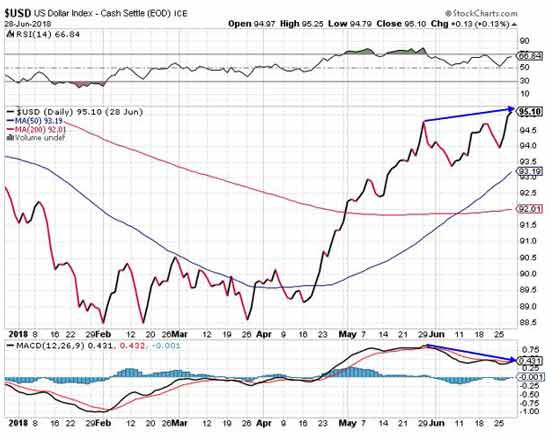 Although the relative strength index is not completely in overbought status, the moving average convergence divergence has been trending downwards. This has been running counter to the higher dollar, suggesting that waning momentum could mean the dollar's rise is running out of steam.
Silver has broken down below its consolidating wedge pattern.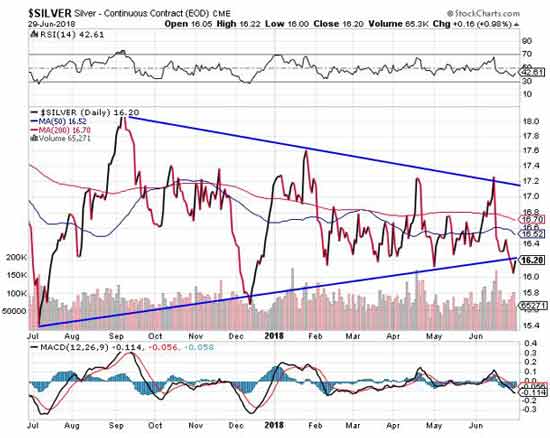 We'll have to wait and see just what happens next. It may have been nothing more than a temporary blip, especially given the action of the last couple of days. If silver can rally from here, then it will be back inside the wedge. From there it could gear up for gains, especially if it follows gold higher in this strong seasonal period through summer.
Despite the small increase of the past week, the gold-to-silver ratio has remained in a clear downward trend.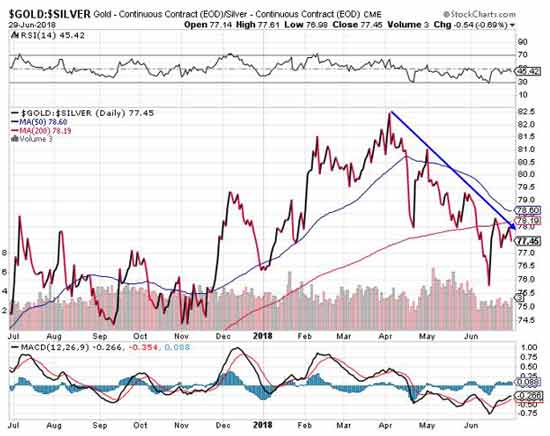 And naturally, that is a bullish sign for the gray metal.
From my perspective, if silver demonstrates that it's done falling and gets a kick from a softer dollar, we could see silver bounce, perhaps even retaking its recent high of $17.20 by the end of summer.