Rates on certificates of deposit are finally rising. If you're looking to kick-start your savings strategy, consider adding CDs to the mix.
CDs are seen as safe bets for saving or investing since they are federally insured and returns are guaranteed. And when CD rates go up, as they have in the past year, you'll earn more money.
"It's important for people who've been disappointed by CDs in the past to bring them back into their rotation," says Robert Frick, corporate economist at Navy Federal Credit Union.
But locking up funds in CDs for months or years isn't the best move for everyone. Here's a closer look at why CD rates have climbed, and whether getting one right now makes sense for you.
CD rates took a big hit after the financial crisis, and they have remained low for a while. That started to change at the end of 2015, when the Federal Reserve made the first of several rate increases. Fed rate hikes are one of many factors banks and credit unions consider when setting rates.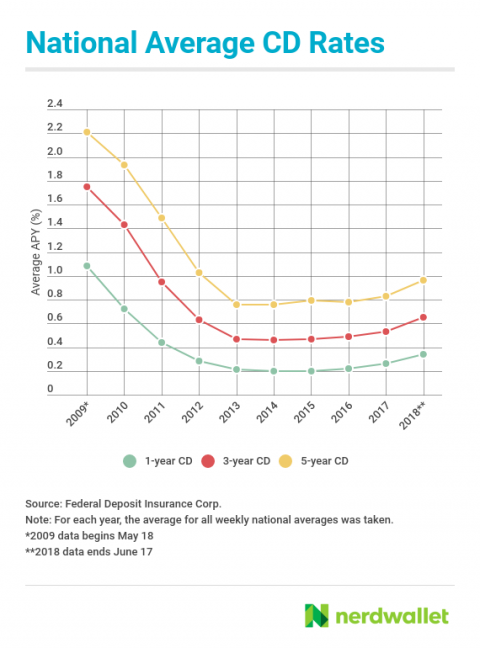 While the national average rates rise gradually, online bank CDs have been skyrocketing. A NerdWallet analysis found that the average one-year CD rate across five online banks climbed from 1.46% to 2.20% annual percentage yield, or APY, in the past 10 months alone. That's an increase of about 50%. (Check out NerdWallet's list of the best CD rates available right now.)
CDs work best in certain situations
Top CD rates are typically higher than the best rates on savings accounts. The best five-year CDs, for example, can come with rates near or even above 3%. Rates on the best savings accounts, meanwhile, currently max out at about 2%.
But just because CDs tend to offer some of the highest guaranteed returns doesn't automatically make them the best home for your savings or investments.